I want to share with you one of the biggest ways I add more independence, creative freedom, empowerment and fulfillment to my life.
This has honestly been the "ticket" to the life I was wanting but not fully living, and has been paying dividends for a couple of years now.
Today, I want to show exactly (complete with screenshots!) how to get it—by starting a website that honors your authenticity in 7 minutes.
Your #1 ticket is your website.
If you put the energy, heart and soul into a website that reflects who you are and what you can offer in the world, the life you want is within reach.
This is not about having a 4-hour workweek; though some weeks might end up like that, you'll definitely be putting in the hours to make this work.
Even as someone who runs a Manifest Like a Mofo course, I'm here to tell you—manifesting and "doing the work" aren't really that dissimilar.
The thing is, you need both: intention and action. You need the woo-woo and the work—you can't have one or the other and expect the full-blown, inspiring results you have your heart set on. If it makes you more comfortable, you can call woo-woo "commitment," or what have you.
Whatever way you sling it, your intention channeled through action will show the universe exactly what you want.
If you are willing to be vulnerable, to be of service to others, and to stay passionate (and figure out what can bring you back to that place when you forget)—you'll receive it.
You might think building a website is a huge endeavor. I'm not going to lie to you—it can be. But the sooner you get over your feelings of overwhelm and get something out there, the faster you'll start to see results and start living the life you really want.
Whether you want to start building out your first-and-last-name domain name, or you're ready to start an online niche site from a burst of lightning idea that keeps wanting to be birthed—here's how you can get your business off the ground and in the air in 7 minutes or less.
To make it fun, we'll set a timer and countdown from 7:00 minutes. Aaaaand go!
Time: 7:00-min kick-off!
Step 1: Head to my favorite place for a URL search: Domai.nr!
While not the best place to buy a domain, Domai.nr is a great place to search for a URL, because it gives you all sorts of intelligent options if your ideal domain is taken.
For example, let's say I want the website nichecraft.com (wherein the fun pun only works if you pronounce niche like "nitch," not "neesh") to help people build successful, sustainable and passive-income based sites.
If I search domai.nr by typing in that address, it tells me it's taken (as well as .org). But the green dots along the other options tell me that .net, .co and a bunch of other variations are available.
This is the easiest, cleanest site to do this kind of searching, and it's completely free (and unhampered by ads). Take 75 seconds max for this and make a decision!
The important part: Don't get stuck here! You can easily buy a new domain name if you want to change it later. Let's get to Step 2!
Time: 5 mins 45 secs left.
Step 2: Head to Bluehost to purchase your domain and grab hosting.
Once you've got your URL in mind, you're going to head over to Bluehost to buy your domain and hosting.
If you head there via the links in this page, Bluehost will give you an even steeper discount price of $3.95/month!
Click here to open Bluehost in a new tab so you can keep referring to this guide.
I genuinely recommend hosting from Bluehost. They're what I use for all my sites, they have extremely responsive customer service and it's super easy to set up WordPress through them with a two-click process. If you want to use WordPress and are not an experienced coder, you definitely want to choose Bluehost!  When all my sites went down once, I called them and a real person (!) answered my call and told me they would fix it immediately—and they did. I trust them completely.
All right, here you are.
Take a deep breath—no time for hesitation, because we're going to do this all in two minutes. Ready? Click the green "get started now" button and let's go!
On the next page, you'll be able to choose from three price points—you might want to pick the "plus" or "business" plan so you can have multiple websites, but you can feel free to begin with the "starter" plan. You can always upgrade later.
On the next page, enter in your new domain (which you already know is available) on the left hand side box.
Hit "next," then you'll enter your personal info. Below that is a form that denotes your package information. Choose an account plan that works for you (red arrow)—I recommend the longest time frame that your budget allows, because you'll end up paying less money in the long run.
An option you might need help with is Domain Privacy Protection (you can ignore and leave unchecked all the boxes below it). Here's how Bluehost describes it, with my editing taking out their pitch to get you to include it:
"The whois information for any domain name is available to anyone on the internet. When you add Bluehost Domain Privacy to your registration, the only information listed in the whois will be Bluehost. You will still be the owner of the domain name, but your contact details will not be accessible through the whois information."
If you're wondering what "whois" is, simply go to who.is. Then have fun (later, when you're done powering through this) looking up some of your friend's sites and viewing their personal information. Whee!
Privacy-wise, here's how I do things: I don't have privacy on this website, for example, but the information there is not, ahem, updated. I live in Boulder, but who.is lists an old address and I don't live there anymore. Which gives me some semblance of privacy. I don't advocate lying about where you live, I'm just wanting to be transparent about how I do things.
On the other hand, I also have a secret niche site I'm building, and for obvious reasons (re: secret) I have privacy protection on there.
So, I choose it sometimes and not other times. It's up to you. Make a decision—we've got two more steps to go!
Time: 2 mins 15 secs left.
Step 3: Simply install WordPress onto your new domain.
Boom! You're so almost there.
After you've entered all your information, your final step is to install WordPress onto your new domain. You don't need to use an FTP (file transfer protocol) program to do this with Bluehost, it's a simple click-through process (this is why I love them!).
Head to the home page of Bluehost again (making sure you're still logged in, or logging back in again). There are a ton of options that can look confusing at first sight, but all you need to look for is this mid-page:
Click "Install WordPress."
Now, for the next screen—get ready to avoid paying extra money!
Do not scroll down and be tempted to spend more money than you need, for someone else to do what you can do easily for free.
The three packages you see mainly comprise WordPress themes and SEO packages, which can all be uploaded for free (via plug-ins or simple "free wordpress theme" searches) after you've installed WordPress.
Note: I've paid for themes before and I'm definitely not knocking them—paid themes often have great functionality. But Live All of You runs on a completely free theme offered by WordPress (as do all of my other sites), and the functionality is perfect for me.
Hit the green install button, and on the next page, select the domain you just purchased. Then click "advanced options" so you can change your WordPress username and password to your preference. Hit "install now" and you're done over here!
Time: 45 seconds left!
Step 4: Head over to your domain name and log in!
To log in, simply fill in your new domain name and head here:
yourdomainname.com/wp-admin
Log in with the info you just gave in "advanced options."
Time: 0:00 minutes (and you're done)!
Voila! You're now in the backend of your very own website. You've just overcome the hurdle that stops so many people from ever creating something they love—beginning.
Now, the next thing to overcome? What my partner Tony refers to as "the never-ending WordPress-customization pit of doom."
Don't fall into the pit of doom—wherein "falling in" means tweaking the site with plugins and widgets and gadgets and gizmos (aplenty), and never actually getting anything written on the site.
Just start creating—whether it's a long blog post, a purpose-filled "why" page, or an About page. Get your (true) self out there.
Great places to start within WordPress:
Appearance -> Themes

Here's where you can customize your theme to make your site look just the way you want it to. Warning: Don't get stuck here.

Pages -> All Pages

Here's where you'll add new pages to your site. I can do specialty one-on-one consulting for this kind of content design (email me if you're interested), but the super basics are: home page, blog page, about page, and contact page. Start messing with the default one provided for you by WordPress.

Posts -> All Posts

Here's where you'll add new blog posts and articles to your site. Start writing in the default one provided for you!
I really hope this was helpful for you. I wish I'd read something like this before I started setting up my sites—and mostly, I wish I'd pulled the trigger sooner on a lot of my ideas for websites and businesses sooner.
Here's to taking action!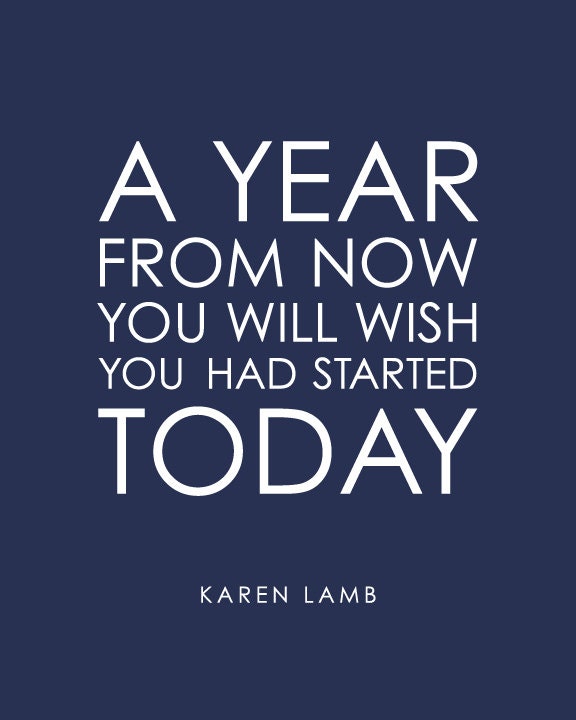 Good luck! Email me if I can help in any way.