For the solopreneur, the inspired creative, and oh right everyone who's coming to WDS—you might, like me, be wondering what to bring. Business cards? Obvious (actually, where are mine… ::opens moo.com::). Notebooks? Check. Pens? Yup.
But, what could you be forgetting? What object lying on your bedroom floor will haunt you on the airplane, personifying itself in your head and chastising you for your forgetfulness?
(No one else has an inner critic that intense? Ok, I digress.)
Let me help.
Here's the heat I'm packin'—plus, I asked WDS alumni the #1 must-have they brought in prior years. Take it or leave it (but at least leave it intentionally).
What to bring to WDS: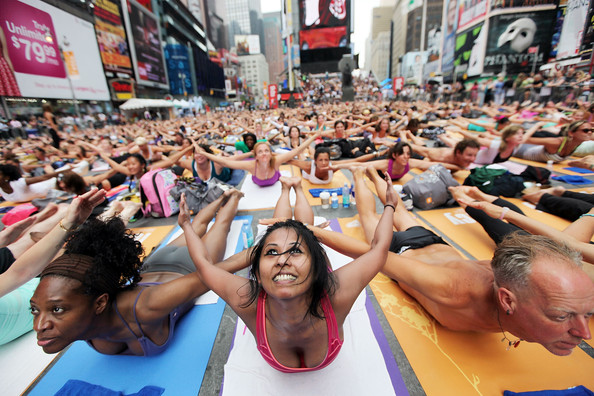 A yoga bag! Why? If you're doing The Great Namaste, you will be receiving a yoga mat. Where are you going to put it? Inside your yoga bag, because you're so smart. You're welcome. (Here's the one I own, love and will be bringing).
Your Kindle/Nook. I'm all for paper (I am a recovering print editor-in-chief, after all), but instead of buying the 18 hardcover books you'll want after listening to every amazing speaker, buy them on the thin device you already know will fit in your luggage on the way home.
A sense of wonder. Don't go to this conference (or anywhere, really) to prove you're an expert at everything. Start each day, each moment, from a wonder perspective. Don't preach to people as soon as you meet them.
Be curious, be open to expansion, and set an intention to look at every single person as someone you can learn from—because every single person knows something that you do not. Find out what that is.
The materials you use to create (or that inspire you to create). If you're traveling light like I am, bring the obvious essentials (paper, pens, sticky notes), but don't forget to bring a thing or two that inspires you to create in the first place. This might be something your logical side might deem unnecessary, but is essential to your spirit.
For me, these are: my rose incense (small and light, and will infuse my Airbnb rental with a beautiful sense of home, my sanctuary) and, currently, the Artist's Way Creativity Cards.
Every morning I've been asking myself: What should I focus on today? Then I close my eyes and pick a card. The answers vary: Nurture, Begin a Project, Change, Keep Moving. They provide an intuitive way for me to start the day from the quiet place inside me that knows I'm connected to everything around me.
And some other recs I received that I vibe with:
Running shoes are on Sarah Peck's list. "I love to slip off for a run in the morning, midday, or late in the evening." This is especially useful as there are runs, hikes and brewery jogs scheduled, notably for Nicole Antoinette's 5k run on Friday, June 11. The girl is running across the country next year—there's definitely something I can learn from her.
Also bring a short list of people you can't wait to meet, adds Peck. "See if you can reach out to them in advance."
Thanh Pham of Asian Efficiency recommends a multiple-outlet cable because it'll help you make friends (I definitely agree based on my experiences as media at SXSW).
Caleb Wojcik of Fizzle has a go-to favorite at WDS when it comes to meeting new people: be ready to ask people "Who should I meet?"
And Chandra Achberger brings an open heart, mind and a big ol' smile—and a plan to execute after (see the bottom of this post for a strategy I'm creating).
What not to bring to WDS:
Physical books. Stop giving me that "but!" look while waving your copy of Crush It. Put it down. There will be so many books for purchase to excite your fancy, and you know you won't be able to resist getting at least one or seven.
Jim Hopkinson says to not bring the immediate default of looking at your phone if you find yourself alone. "Be willing to just turn to the person next to you and strike up a conversation. I've met so many great people that way, and people are incredibly open to that at WDS."
The question: "So, what do you do?" 
Toss it, please. Some other basic options I love:
What's exciting you lately?

What are you creating these days?

Is it morning? What's your intention for today?
Is it evening? What was super inspiring to you today?
As the guys over at Fizzle say in their "15  Honest Techniques to Meet New People" podcast: How's your father? (No, actually don't use that one.)
You're here to connect, not to exchange information. Kick robot mode to the curb.
Your ego. Ok, so this is impossible, but at the very least: your judgement mentality. Don't abruptly stop talking to someone when you find out that what they do doesn't align with you at all. You were called to talk to them for a reason (or if you weren't, focus on cultivating that sense the next time you speak to someone—look around a room and find the 1-3 people you're drawn to).
There are likely people who will do this to you, who's eyes will glaze over and start wandering when you tell them what your interests are. Try to remember that this has nothing to do with you, that it has to do with them—and then don't do it to others.
Ultimately, let intuition/magic guide you and remember to paint some white space into your days. The choice of what you do with your time is yours—remember that.
A note on post-conference intention:
In a flurry of inspiration at the conference, I created Make it Worth It! A 10-Day Online Workshop to Synthesize WDS Into Your Life to help people (and myself!) add meaning, context and action after the conference ends.
We start on Wednesday, July 16 and go for 10 days (or you can go at your own pace if you prefer). Signups are open until Friday, July 18!
Thanks for reading!